Nature is one of the predominant elements of this territory, there is plenty of choice: parks, natural oases, beaches, educational farms, SPAs, resorts, farmhouses, birdwatching.
All within walking distance of home.
Parks
With its public parks, present in every locality of the territory, Fiumicino is a city attentive to public greenery.
VILLA GUGLIELMI
Its largest park, Villa Guglielmi, is surrounded by a park of 10 hectares, and houses the characteristic eighteenth-century villa that gives its name to the park.
The Villa was a country residence belonging to the families of the Primoli and the Giraud, but many families were owners in the following centuries.
Today Villa Guglielmi is also known for its sport and jogging paths, a green and quiet oasis for those who love to take long walks in nature, among trees, meadows and canals, but also for those who love to do outdoor sports with its equipped paths.
A lovely pond, wooden bridges and a children's play area frame this green oasis in the heart of Fiumicino. If you visit Fiumicino you cannot miss it.
CETORELLI PARK
But it is not the only park in the city.
Another beautiful park is the one called Parco Cetorelli, near the Cetorelli stadium.
Si tratta di un parco pubblico con giochi, alberi, prati e aree verdi. Con un piccolo bar al suo interno.
E' un parco gradevole, adatto ai più piccoli.
E' curato, amato e valorizzato dai volontari del Cetorelli Park Committee.
PARCO SIMONE COSTA
Un altro parco molto carino e ben manutenuto è il parco Simone Costa curato, amato e valorizzato dall'associazione WeLoveSimone in ricordo di Simone.
E' un piccolo parco che si trova a Fiumicino, davvero ben tenuto con giochi per bambini, panchine, verde e una bella fontana al centro. Un esempio di gestione mista pubblico-privato per il bene della comunità.
Complimenti ai volontari dell'associazione WeLoveSimone! 🙂






PARCO FEDERICO FELLINI
Un altro grande parco, bello e suggestivo, è il parco Federico Fellini a Fregene che ospita la pineta monumentale della cittadina costiera.
Con una estensione di quasi 15 ettari è un enorme polmone verde all'interno del comune, ma non solo, riveste un ruolo storico e culturale importante.
In 1666 Pope Clement IX decided to put in place the pine forest of the swampy ground to make healthy Fregene, Lazio.
For this reason planted in the territory where the pine forest, hundreds of marine pines, so they could dry up, at least in part, the swamp and the campaign to protect crops from sea winds.
Over the centuries the pinewood became so impressive that on 20 August 1920 the Italian Government declared, by Royal Decree of King Victor Emmanuel III, "national monument". For this reason, even today, is called pine forest.
Fregene pinewood was chosen as a film set by Federico Fellini to turn one of the most famous scenes in movie history in the film "the white Sheik" and clung to the late master who in 2009 was dedicated to him becoming "Park Federico Fellini ".
Rimaniamo a Fregene e continuiamo il nostro percorso alla ricerca dei parchi di Fiumicino.
Un altro parco suggestivo è il Parco Avventura!
PARCO AVVENTURA
Qui come moderni Indiana Jones potremo cimentarci nello scalare alberi, esplorare foreste incantate, avventurarsi tra chiome del bosco, camminare su fili sospesi per aria, lasciarsi andare ad avventure mozzafiato in mezzo alla natura!
Il parco Avventura si trova in via della Veneziana a Fregene ed è aperto tutti i giorni dalle 10 fino al tramonto.
Per info e prezzi vi consigliamo di visitare la loro pagina, http://www.parcoavventurafregene.it/info-prezzi/
LA LECCETA DI FREGENE
Rimanendo sempre a Fregene possiamo ammirare la sua splendida Lecceta, dal 2017 armonizzata, protetta e valorizzata dal comune.
Tra la pineta monumental di Fregene e l'Oasi WWF di Macchiagrande si estende un'area di grande valore naturalistico: la lecceta di Fregene.
La lecceta di Fregene, 20 ettari di verde, è un grande parco naturale, precluso alle auto e destinato esclusivamente al passaggio ciclopedonale. Le staccionate in legno delimitano l'area. Trova così compimento il progetto contenuto nella delibera approvata nel maggio 2017 per promuovere iniziative rivolte alla mobilità sostenibile e al rispetto dell'ambiente. (fonte: https://www.riservalitoraleromano.it/venue/lecceta-di-fregene/)
Ed è un luogo davvero magico, dove si possono incontrare perfino dei Daini 🙂
PARCO FLUVIALE DEL TEVERE (FIUMICINO-PARCO LEONARDO)
Un altro parco molto suggestivo è il parco fluviale che collega Fiumicino a Parco Leonardo tramite la sua ciclabile.
E' un parco lungo più di 3 km che parte dal parco archeologico dei Porti Imperiali fino ad arrivare alla prima rotonda di Parco Leonardo.
A brief overview of the route in this video (it's an old video, now the track has some nice bridges and new infrastructure!)
It is a simple route suitable for families and children, full of curiosity and history, completely immersed in nature, between the yellow of the fields, the green of the trees and the blue of the sky, accompanied throughout the path by the Tiber river.
The route winds in 5 stages: the Bishopric of Porto, the lock of the Episcopio, the countryside and the Oasis of Porto, the Tiber river and the hydrographic station, the stele in memory of Garibaldi.








Abbiamo raccontato fin qui solo dei parchi più grandi ma nell'intero territorio di Fiumicino ci sono svariati piccoli parchi a macchia di leopardo su tutto il territorio comunale.
E non è un caso: nei palazzi di nuova costruzione vengono realizzati dei piccoli punti verde o parchi di interesse locale adiacenti al palazzo, che devono sottostare ad alcune regole, come quello dell'accessibilità o della realizzazione di giochi per bambini. Sono parchi pubblici ma gestiti dal costruttore.
In questo modo si cerca di creare piccoli parchi usufruibili dalla comunità.

OASI NATURALISTICHE
Fiumicino is a territory with a truly exceptional geographical and naturalistic variety, ranging from the 30 km long coast up to the rolling hills of its hinterland, without forgetting the woods, pine forests, holm oaks, rivers, vast countryside. A truly green territory.
But not only.
Thanks to its history, ancient and important, it houses some oases and archaeological-naturalistic parks really important.
Let's start with the archaeological park of the imperial ports of Claudius and Trajan, one of the treasures of Fiumicino.
ARCHAEOLOGICAL PARK OF CLAUDIUS AND TRAJAN
The archaeological park of the imperial ports of Claudius and Trajan is an archaeological and naturalistic park, extending almost 32 hectares, reachable via the Via Portuense by car, on foot or by bike along the cycle path that connects Fiumicino to Parco Leonardo or taking from Piazza C.A. From the Church (common stop) the bus line 9 (direction Fiera di Roma) getting off at the "Cimitero di Porto" stop and then take a small walk in the green to the park.


It houses the largest port of antiquity built first by Emperor Claudius and then later expanded by Trajan who transformed it into one of the most strategically important places of the empire: here in fact were kept the foodstuffs coming from the 4 corners of the empire that served to feed the population of Rome which at that time was about 1.2 million – 1.7 million inhabitants. It is a magical, silent place, rich in history and charm but also a place rich in nature and biodiversity.
The species present are of a common type, species well adaptable to the climate and to the substrate of the place, able to perform very specific tasks, for example the tamarix gallica as a diaphragm of protection from the sea winds or the Eucalyptus globulus suitable for absorbing excess water in the soil; the Pinus pinea which, although introduced on the coast by man at the end of 1600, in the areas more properly with a natural vocation to Mediterranean scrub, was widely spread and used in the national territory (source: https://rodin.uca.es/xmlui/bitstream/10498/20293/1/14-STRANO-OK.pdf)
OASIS OF PORTO
Right next to the archaeological park, where 2000 years stood the ancient port of Trajan, we find the Oasis of Porto, a truly evocative naturalistic historical oasis.
The Oasis extends around Lake Trajan. The basin, of perfect hexagonal shape, of 33 hectares, represents as well as a work of exceptional historical value, a fundamental privileged stopping point for migratory water birds in their long flights between the Mediterranean and northern European regions where nesting takes place and vice versa.
During the journey out of wagons pulled by teams of horses, from campaign through an area, where you can observe deer in their natural habitat.
The first stop is done to "casina, duck", overlooking the Lake, where it is included into the ticket, you can enjoy refreshments with a break for coffee or tea. Adjacent to the casina of the ducks, are clustered in a small garden, flowering shrubs, which by their very nature tend to attract different species of butterflies.
The second stop is made at an observation shed, camouflaged with the surrounding nature, from which it is possible to observe the lake and a pond that favors the presence of migratory birds, and in particular of waders, numerous species of ducks, grebes, cormorants, gray herons, knights of Italy and sea swallows.
OASIS OF MACCHIAGRANDE
Moving further north here we arrive at the splendid WWF Oasis of Macchiagrande in Fregene.

The area of 280 hectares, falls within the State Nature Reserve Of the Roman Coast, and is one of the most significant sites for the protection and conservation of the coastal environment. Inside there are the Mediterranean scrub behind the dunes and a Mediterranean forest among the most beautiful and preserved of the Lazio coast where the holm oak predominates. Among the animals there are fallow deer, common tortoise, porcupines, foxes and owls and, of course, numerous species of waterfowl that habitually frequent the reclamation channels.








And during 2021 the Oasis hosts the interesting exhibition "Dinosaurs in the flesh" where adults and children can walk around the Oasis meeting realistic and life-size reproductions of the main dinosaurs that crossed our land.
An exciting meeting for the little ones but also very informative (from the site https://www.dinosauricarneossa.it/fiumicino/ ),
an evocative experience that helps us reflect on the fall of the asteroid that caused the disappearance of the Mesozoic dinosaurs and on the often negative impact that man has on nature.

And you, can you survive a mass extinction?

A small group of survivors of the great extinctions has given life to different species of animals that have dominated the Earth alternating and diversifying: the exhibition tells the life from the time of the dinosaurs to the present day.
THE TANKS OF MACCARESE
Maccarese tanks despite a man-made environment have a rich biodiversity with over 100 plant species. It is possible to identify four distinct vegetation zones: the aquatic vegetation; the bands (Eucalypt tree farmEucalyptus globulus, Eucalyptus camaldulensis); the canneto Phragmites australis (Marsh straw) with the beautiful yellow iris (IRIS pseudoacorus); the meadows, along the paths which divide the bathtubs, characterized by substantial blooms as Narcissus (Narcissus tazetta), Orchis laxiflora cengio (springs andAbutilon theophrasti). Extensive patches of Bramble (Rubus fruticosus).




Maccarese tanks thanks to surprising naturalness attained have become a vital wintering and stopover point for many species of birds. There are year-round moorhens, Mallard, coots and grebes; during the winter you can see various species of ducks as shelducks, teals, gadwalls, tufted ducks, pintails, pochards, shovelers; many cormorants as evidence of plenty of fish. The herons are represented by white herons, egrets, herons and cattle egrets; It is easy to find and watch kingfishers, Bitterns (Botaurus stellaris) and sailing (Marsh HawkCircus aeruginosusorder hunting.) In spring increases the chance of seeing birds "to step" as the Knight of Italy (Himantopus himantopus) and the Purple Heron (Ardea purpurea). In autumn it is the Osprey (Pandion haliaetus) the protagonist intent on capturing the many fish present in the tanks.
Find out more by visiting this page.

BEACHES
With its more than 30 km of coastline, Fiumicino is the ideal place for those who love the sea, the beach and the seascapes.
Each location has its own peculiarity, history and culture. Let's take a brief overview of the beautiful beaches of our city.
FIUMICINO AND ISOLA SACRA
Among small beaches, budgets and breathtaking sunsets Fiumicino and Isola Sacra offer those who visit suggestive and romantic landscapes.






FREGENE AND MACCARESE
Fregene is the inconstant queen of the summer nightlife, place of the Dolce Vita and summer refuge for the many. citizens who love great outdoors, sunsets over the sea and greenery and nature.
In addition, Maccarese is a small paradise for lovers of surfing and kiting thanks to the climatic conditions particularly oriented to these types of sports.






PASSSOSCURO AND PALIDORO
Passoscuro is a small fishing village, a jewel that houses some pearls:
of the wide beaches with beautiful dunes, which can be visited through the beautiful raised wooden walkways, thus preserving their integrity, and the colorful murals that embellish and embellish the village. Definitely worth a visit.








SPA and RESORT
Fiumicino also offers corners of relaxation and well-being really suggestive and quality for those who need a moment of leisure and pampering all for themselves.
We will tell you about 3 places to visit but know that there are many others, there is only the embarrassment of choice.
QC TERMEROMA
Let's start with QC Termeroma, a charming and high quality resort.

You sleep in fifty rooms surrounded by nature with greenery as far as the eye can see and the chirping of birds as a side dish. Relax in the big underground spa made in the historical part: where once there was the ancient "caciara" for the aging of cheese today we pass from a Kneipp path to sensory pools, from the sauna to the Turkish bath or the emotional shower, while outdoors you dive into the pool or treat yourself to a whirlpool.
A tip? From October onwards right next to the hotel resume visits on Thursdays and Sundays atOASI di Porto, a beautiful environmental reserve with a large lake and over 130 types of migratory birds including gray herons, coots or cormorants. It is a very interesting visit to do even with children in tow because the area can be admired going up on board vintage carriages horse-drawn. And there is also an interesting didactic lesson held by specialized environmental guides on the lakeside (from October to June: Thursday and Sunday 10-16, admission 12 euros adults, children up to 5 years free, up to 10 years 3 euros, up to 18 years 8 euros, info tel.06.58.80.880, oasidiporto.it). (source: https://viaggi.corriere.it/itinerari-e-luoghi/qc-terme-roma-una-day-spa-tra-i-casali/)
PORTO ROMANO – THE MARINA RESORT
And for those who love relaxation, sea and resort here is that Fiumicino is home to one of the most beautiful marina resorts in Italy.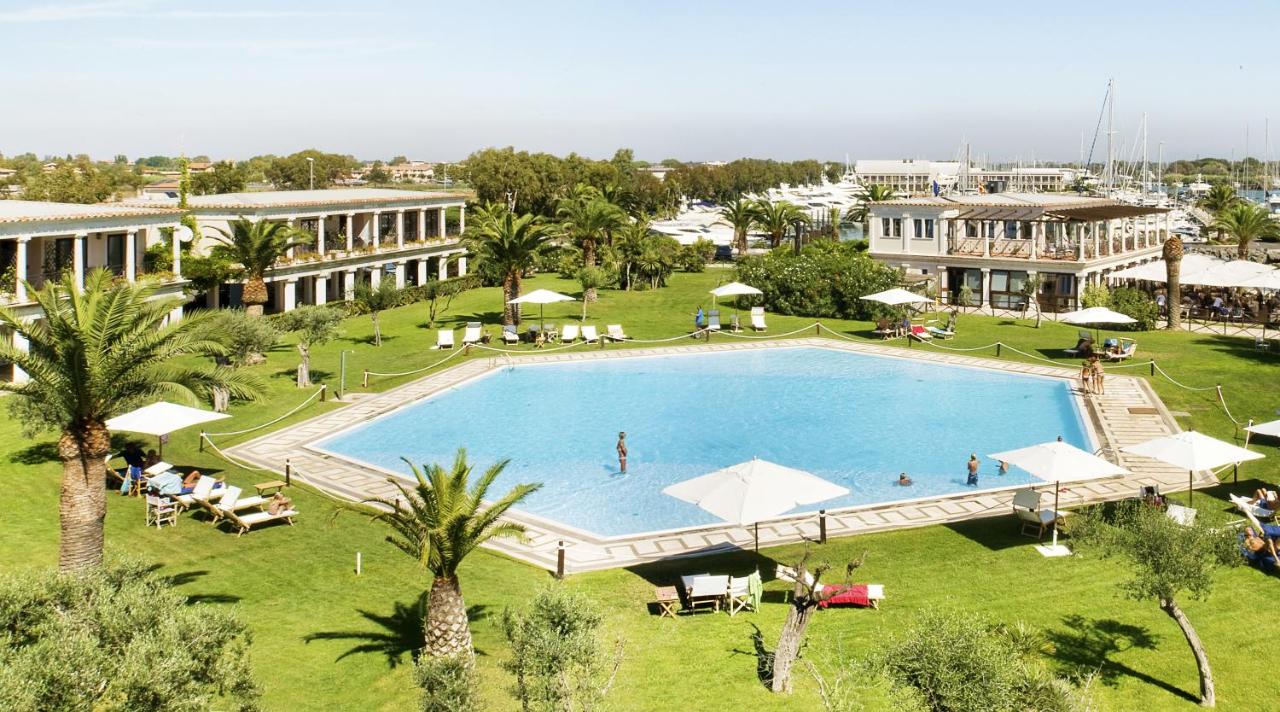 The flagship that elevates Porto Romano for beauty is the new and exclusive Resort & Spa, a true regenerating oasis: suites of refined luxury full of comfort & technology; wellness breaths including sauna, Turkish bath, gym, 4000sqm of palm trees, olive trees and a superb swimming pool; flavors and atmospheres at the historic restaurant Gina seafood dishes and sails.
In addition to the large outdoor swimming pool and the Technogym gym, the resort also offers relaxation areas and spa to its guests: after physical activity or independently of it, the invitation is to dissolve tensions and muscles thanks to the warmth of the Finnish sauna or to purify the skin and breath thanks to the steam and essences of the Turkish bath; it is always a good rule to conclude by abandoning yourself in one of the sunbeds, pampered by relaxing musical notes and sipping some replenishing drink offered by the house.
APRHODITE RIVER SPA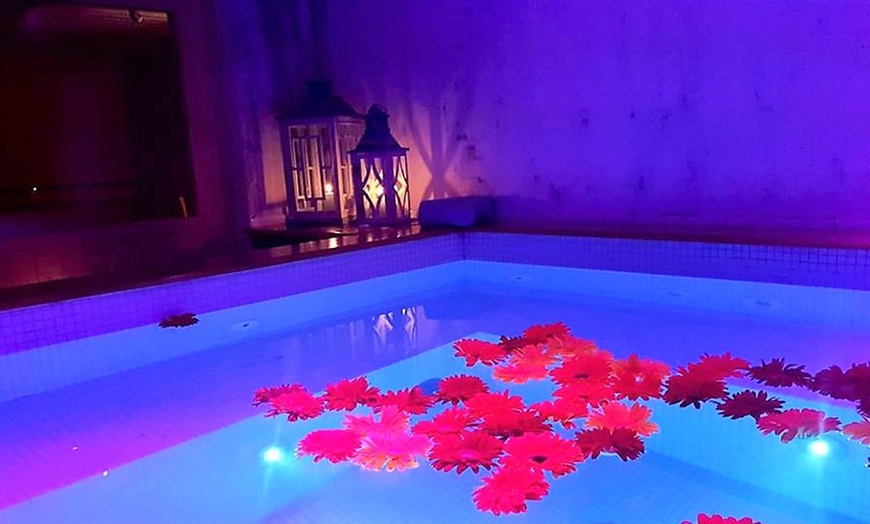 And finally here we are at the charming and welcoming Aphrodite River SPA, hosted at the premises of the famous Marina Nautilus right next to the prestigious restaurant 4112 of Chef Lele Usai.
The peculiarity of this SPA is that it is a private SPA, that is, a private SPA that can be booked to spend moments of relaxation and intimacy with the person you love or with a special friend.
Aphrodite River Spa, the exclusive beauty, immersed in an oasis of peace, surrounded by boats moored on the bank of the Tiber River, a few steps from the sea.
The ideal place for wellness and body care.
Aphrodite River Spa offers a rich variety of treatments performed by highly qualified professionals.
Guests have access to a Private Spa, Finnish sauna, Jacuzzi, emotional shower, relaxation area and a rich menu of "rituals" for face and body.
And after a relaxing SPA you can book a table at the restaurant 4112 so as to complete the day in relaxation and taste.